"A change is as good as a rest!" Nova Scotia offers some of the best weekend getaways in Canada, with stunning scenery and plenty of activities to help you relax. From picturesque coastal adventures to vibrant cities filled with culture and history, there are so many options for an unforgettable escape. Whether you're looking for a romantic retreat or an action-packed family holiday, here are our top picks for weekend getaways in Nova Scotia!

From the beautiful beaches of Cape Breton Island to the rolling hills of Annapolis Valley, Nova Scotia has something for everyone. If you're seeking adventure, explore the rugged coastline by kayak or take a long stroll along one of its famous sandy beaches. For those who prefer more leisurely pursuits, enjoy farm-fresh meals at local markets or sample beer from some of the province's finest craft breweries. And if that doesn't quite cut it, why not head out on a whale watching tour?

Nova Scotia also boasts a host of charming towns and villages that are perfect for exploring over a weekend away. Take Peggy's Cove – with its iconic lighthouse and spectacular views over St Margaret's Bay; Lunenburg – home to fishing fleets, seafood restaurants and colourful wooden buildings; Yarmouth – where shopping opportunities abound amid quaint cobblestone streets; or Wolfville – renowned for its lively street festivals and wineries offering everything from award-winning whites to fruity reds. With these destinations just being the tip of the iceberg, what better way to spend your weekend than discovering all that Nova Scotia has to offer?


Overview Of Nova Scotia

Nova Scotia is a picturesque province in the heart of Eastern Canada. It's known for its stunning natural beauty, friendly locals and abundant history. From rugged coastlines on the Atlantic ocean to lush forests, Nova Scotia offers no shortage of activities for those looking to explore or get away from it all. Whether you're seeking adventure or relaxation, there are plenty of top weekend getaways in this delightful maritime province.

The culture here is unique and diverse – something that adds to its charm. There's also an incredible selection of seafood dishes, making Nova Scotia a foodie paradise! With so much variety to discover and experience, your next trip could easily become one of your favourite memories yet.


Popular Travel Destinations


Nova Scotia is brimming with amazing weekend getaways, making it the perfect destination for those looking to escape their daily routine and enjoy some freedom. From bustling cities to quiet coastal towns, there's something here for everyone. Here are a few popular picks:

Halifax: The capital of Nova Scotia, Halifax has plenty to offer visitors looking for a fun-filled weekend away. With its vibrant nightlife and cultural attractions like Citadel Hill and Pier 21 Immigration Museum, you'll never be bored! There are also many outdoor activities available, such as kayaking in the harbour or taking an evening stroll along the waterfront boardwalk.
Cape Breton Island: This stunning island offers breathtaking views of both land and sea.
Spend your days exploring Cape Breton's national park, or one of several provincial parks, or take a drive around Cabot Trail – one of Canada's most scenic drives!

Lunenburg: A UNESCO World Heritage Site since 1995, Lunenburg boasts colourful Victorian architecture and beautiful wooden boats lining the harborfront. It's also home to the famous Bluenose II schooner, which can often be seen sailing across Mahone Bay during summer months. Whether you choose to explore by boat or foot, this picturesque town will surely leave you captivated!

No matter what type of trip you're after – whether it's an action-packed city adventure or peaceful countryside retreat – Nova Scotia has got it all covered. So why not pack your bags today and head out on your own journey? You won't regret it!

Mabou

What could be more unique than visiting a place such as Mabou, Nova Scotia? While it may appear to be an idyllic spot for the perfect weekend getaway, those who travel there are in for quite a surprise.
Nestled along Inverness County on Cape Breton Island, this small fishing village offers visitors stunning vistas and plenty of opportunities to explore.

Mabou is known for its unique culture, vibrant natural beauty and rugged coastline. The area's crystal clear waters are ideal for swimming and boating, while the hills provide spectacular views of the ocean.
There are numerous hiking trails throughout the region that offer breathtaking scenery and allow you to experience the true essence of Nova Scotia's outdoors. And if you're looking for something slightly different from your typical beach vacation, why not try some traditional Celtic music at the famous Red Shoe Pub.
Whatever you choose to do during your stay, Mabou guarantees an unforgettable experience that will leave you wanting more!
Top Mabou Accommodation
For a unique and memorable stay in Mabou, consider the Northeast Cove Geodomes. These eco-friendly, geodesic dome accommodations offer a one-of-a-kind experience, combining luxury with a close connection to nature.


Lunenburg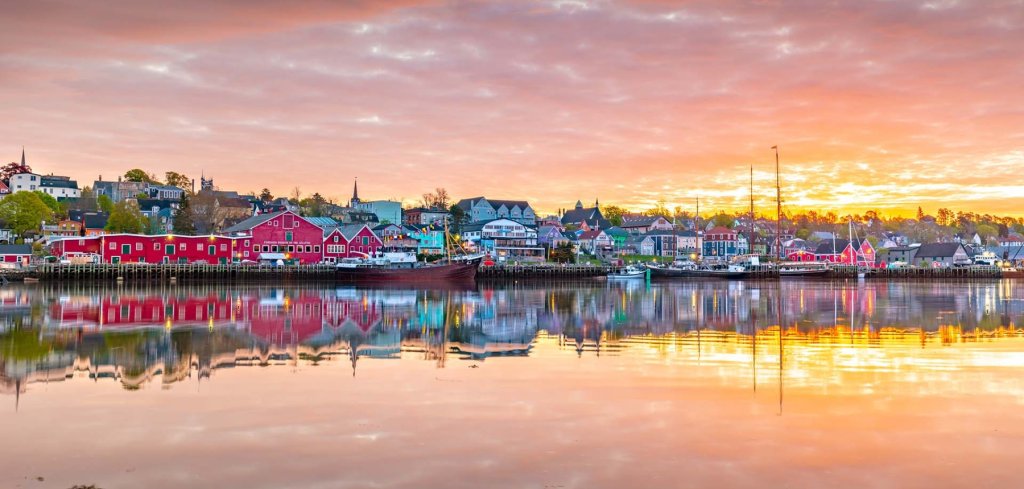 Lunenburg is a stunning weekend getaway in Nova Scotia. Its colourful buildings, cobblestone streets and ample outdoor activities make it an ideal escape from reality.

It's also home to one of the oldest surviving fishing fleets in North America, making it a must-see for any maritime enthusiast. Here are some of its highlights:

* Nature
* Whale watching
* Hiking around The Ovens Natural Park close by
* Kayaking on Mahone Bay
* Culture
* Exploring the picturesque town centre
* Visiting iconic sites such as Bluenose II or Lunenburg Academy Museum
* Touring art galleries with unique local works

If you're looking to relax away from the hustle and bustle, Lunenburg offers plenty of opportunities for rejuvenation. Enjoy long strolls along the waterfront, delicious seafood restaurants, hearty pubs and cafes – all while taking in breathtaking views. Soak up some sun and explore this charming coastal town!
Top Lunenburg Accommodation
When visiting the beautiful and historic town of Lunenburg, consider staying at the Smugglers Cove Inn. This charming, boutique-style accommodation is located in the heart of the town and features a mix of modern and traditional decor. Each room is individually decorated, offering a comfortable and unique experience for guests.
The inn is just steps away from the Lunenburg waterfront, and other local attractions, making it an excellent base for exploring the town's rich history, vibrant arts scene, and delicious dining options.


Digby & The Bay Of Fundy


From the charming old town of Lunenburg, we now move to one of Nova Scotia's best-kept secrets: The Bay of Fundy. This incredible bay is home to some truly awe-inspiring sights that are sure to make your weekend getaway unforgettable!
Known for its world-famous Digby scallops, this charming town is situated along the Bay of Fundy. You can experience the highest tides in the world and even embark on a whale-watching tour to see these magnificent creatures up close. Don't forget to stroll the quaint streets and explore the local shops and eateries.

The Bay of Fundy is a must for anyone looking for an escape from the hustle and bustle of everyday life. From its towering cliffs to its lush forests, this region offers plenty of opportunities for adventure and relaxation alike.
Explore the area by kayak or canoe, take in breathtaking views atop the tall sea stacks that line the shoreline, or simply sit back and marvel at up-close encounters with wildlife like whales and seals. Not only will these experiences give you lasting memories, but they'll also leave you feeling recharged and ready to tackle anything life throws your way.
Top Digby Accommodation
For a memorable stay in Digby, consider the Digby Pines Golf Resort & Spa. This historic resort offers a variety of accommodation options, including charming cottages and well-appointed guest rooms. The property features an on-site golf course, a full-service spa, and a fine dining restaurant, all with stunning views of the Bay


Halifax


Halifax is the capital of Nova Scotia and it offers plenty of exciting activities for a weekend getaway. From its vibrant nightlife to its beautiful waterfront, there's something for everyone here!

Things to do in Halifax on your Weekend Getaway:
Outdoor Activities:
* Kayaking around Georges Island or Lawlor Islands
* Hiking through Point Pleasant Park or Sir Sandford Fleming Park
* Enjoying a beach day at Crystal Crescent Beach or Martinique Beach Provincial Park
Cultural Experiences:
* Exploring the Maritime Museum of the Atlantic or Alexander Keith's Brewery Tour
* Seeing one of oldest active farmers' markets in North America at Halifax Seaport Farmers' Market. ** Founded in 1750 **
* Taking in an outdoor concert with Symphony Nova Scotia

Foodie Escapes:
* Tasting award-winning wines from Benjamin Bridge Vineyards
* Indulging in seafood specialties like Digby scallops, oysters, and lobster rolls
* Trying local favourites like donairs & poutine

The city has so much to offer that you're sure to have an unforgettable time exploring all that Halifax has to offer. Whether you're looking for adventure, culture, history, or just want some delicious food – this place is perfect for anyone seeking a truly memorable experience!
Top Halifax Accommodation
The top accommodation in Halifax is The Lord Nelson Hotel & Suites. This elegant, historic hotel offers a mix of modern amenities and old-world charm. With a prime location in downtown Halifax, guests can easily access the city's main attractions, such as Citadel Hill, the waterfront boardwalk, and the Halifax Seaport Farmers' Market.


Cape Breton Highlands

Leaving the hustle and bustle of Halifax behind, a weekend getaway to Cape Breton Highlands is just what you need for relaxation. This picturesque region offers an array of activities that will entice any nature lover. The Cabot Trail winds its way around this stunningly beautiful area, with breathtaking views at every turn. You can take in all the sights while cycling or hiking along its length, or simply drive it as part of your journey through the region.

For those seeking more adventure, there are plenty of opportunities available, including kayaking, canoeing, surfing and whale watching. There's also four wheel driving on sandy beaches and even rock climbing! So if you're looking for some thrilling outdoor fun, then look no further than Cape Breton Highlands. Here you'll find something for everyone – from exciting activities to peaceful moments admiring nature. Enjoy a break away from your everyday life and explore all that this remarkable destination has to offer.
Top Cape Breton Highlands Accommodation
For a luxurious stay on Cape Breton Island, consider the Keltic Lodge Resort and Spa. Nestled within the Cape Breton Highlands National Park, this resort offers stunning views of the Atlantic Ocean, beautifully appointed rooms, and a variety of Nestled within the Cape Breton Highlands National Park, this resort offers stunning views of the Atlantic Ocean, beautifully appointed rooms, and a variety of amenities including a full-service spa, an on-site golf course, and multiple dining options.


Kejimkujik National Park

Kejimkujik National Park is a great weekend getaway for those looking to escape the hustle and bustle of city life. With over 15 hiking trails, totaling around 100 kilometres, and several canoe routes within the park, it's no wonder that this park attracts more than 150,000 visitors each year! Whether you're an experienced hiker or just someone who wants to take in some beautiful natural scenery, Kejimkujik has something for everyone.

The park features many different activities, from canoeing to bird watching. There are also numerous camping areas where you can pitch your tent and enjoy the peace and quiet of nature. You can even rent a cabin if you prefer a little more comfort during your stay. For those interested in history, there are plenty of interpretive sites throughout the park with stories about Mi'kmaw culture and the area's past.

Kejimkujik offers an unforgettable experience; one full of adventure and relaxation at the same time. Spend your days exploring its lush forests and crystal-clear lakes, then retire back to camp for restful nights under starry skies – all within reach when spending your weekend in Nova Scotia's breathtaking national park.
Top Kejimkujik National Park Accommodation
For a unique experience within Kejimkujik National Park, consider staying at the Milford House. This historic property offers charming cottages and a main lodge, nestled in the park's beautiful wilderness. Guests can enjoy outdoor activities such as canoeing, hiking, and wildlife watching, while also having access to home-cooked meals in the on-site dining room.


Annapolis Royal

Located on the Bay of Fundy, Annapolis Royal is a perfect weekend getaway for those looking to relax and take in some fresh sea air. Its charming small-town atmosphere is both quaint and welcoming. Here are five reasons why you should add this Nova Scotia gem to your list of top weekend destinations:

– Immerse yourself in local history with visits to Fort Anne National Historic Site, Port-Royal Habitation, or one of the many museums around town.

– Spend time outdoors exploring the beautiful surrounding nature trails or kayaking down the Annapolis Basin.

– Enjoy great seafood dishes like haddock chowder and explore unique restaurants scattered throughout downtown Annapolis Royal.

Take a break from reality while admiring stunning views of rolling hillsides leading into the bay. With plenty of activities and tranquil settings to choose from, it's easy to see why Annapolis Royal is one of Nova Scotia's best kept secrets that visitors keep coming back for. If you're looking for a relaxing escape full of culture and adventure – look no further than Annapolis Royal!
Top Annapolis Royal Accommodation
The Queen Anne Inn is a top accommodation option in Annapolis Royal. This historic Victorian mansion offers elegantly appointed guest rooms, beautiful gardens, and easy access to local attractions, such as Fort Anne National Historic Site and the Annapolis Royal Historic Gardens.

Peggy's Cove


Peggy's Cove is one of Nova Scotia's most iconic and beloved destinations. With its dramatic lighthouse, stunning views, and quaint fishing village vibe, it is the perfect spot for a weekend getaway. Visitors can explore nearby beaches, take in vistas from atop granite cliffs, and appreciate the unique maritime culture that has been preserved here for generations. For those looking to relax by the water, there are plenty of sheltered coves along the shoreline where visitors can kayak or simply sit back and enjoy the scenery.

No visit to Peggy's Cove would be complete without exploring the 1868 lighthouse built on the rocks at the entrance to St. Margaret's Bay – an experience that will stay with you long after your trip ends. Whether you're hoping to find peace and quiet or a little adventure, this magical place promises something special around every corner.
Top Peggy's Cove Accommodation
The Oceanstone Seaside Resort is a top choice for accommodations in Peggy's Cove. This charming resort features warm cottages and guest rooms, all with stunning ocean views. Its close proximity to the famous Peggy's Cove Lighthouse and surrounding attractions make it an ideal base for exploring the area.

Wolfville


Leaving Peggy's Cove, the next top weekend getaway in Nova Scotia is Wolfville. Located on the picturesque Minas Basin of the Bay of Fundy, this charming town has something for everyone. From vibrant festivals to stunning wineries and beaches, there's no shortage of activities and sights to explore.

For those looking to venture outdoors, Wolfville offers spectacular coastal hiking trails with breathtaking views of the sea. Take a guided tour through Blomidon Provincial Park or enjoy some bird watching at Gaspereau Valley Wildlife Management Area. You can even kayak along an old railway bridge over Grand Pré National Historic Site – an experience that will leave you feeling energised and inspired!

Wolfville also boasts a lively arts scene; visitors can catch local artists performing live music at many venues throughout town or check out one of their art galleries featuring pieces from both emerging and established talent. The urban core features unique shops and restaurants where you can sample delicious local cuisine – truly making it a perfect place to relax and connect with nature while experiencing all that Nova Scotia has to offer.
Top Wolfville Accommodation
For a memorable stay in Wolfville, consider the Old Orchard Inn & Spa. This charming property offers a variety of accommodation options, including well-appointed guest rooms and snug cottages. The inn features an on-site spa, a fine dining restaurant, and beautiful gardens, making it a perfect retreat after a day of exploring the Annapolis


Cabot Trail


The Cabot Trail is like a magical path that unlocks the mysteries of Nova Scotia. Its winding roads are carved into the cliffs, overlooking vast oceans and evergreen forests that stretch as far as the eye can see. It's no wonder why it has become one of the top weekend getaways in the province.

Exploring this trail is like taking a journey through time; its rugged coastline offers breathtaking views of small fishing villages, while rolling hillsides reveal some of Canada's most beautiful sunsets. Visitors have plenty to do during their travels: from whale-watching tours to leisurely hikes up mountain peaks, there's something for everyone here. Plus, with plenty of cosy accommodations available close by, you'll be able to make your stay even more enjoyable.

Whether you're looking for adventure or just want to relax and take in all that nature has to offer, then look no further than the Cabot Trail – an unforgettable experience awaits!
Top Cabot Trail Accommodation
Knotty Pine Cottages, situated in scenic Nova Scotia, present a charming retreat for travellers seeking comfort and tranquillity. Located in the delightful town of Ingonish, these appealing cottages are enveloped by verdant forests and captivating coastal vistas.


Conclusion


Nova Scotia is a stunningly beautiful province that offers travellers plenty of exciting things to do and see. From the charming fishing village of Lunenburg, to the breathtaking Bay of Fundy and Peggy's Cove, Nova Scotia has something for everyone who enjoys nature-filled getaways. In fact, according to recent research from Statistics Canada, over 2.4 million tourists visited Nova Scotia in 2017 alone!

Whether you're looking for an outdoor adventure or a relaxing weekend away with friends, there are countless reasons why Nova Scotia should be at the top of your list when it comes to choosing a destination. I'm sure that once you've experienced all this unique Canadian province has to offer, you'll have no doubt why so many people return time and time again!

So don't wait any longer – start planning your next trip to Nova Scotia today and experience first hand what makes it one of Canada's most popular destinations. With its incredible natural beauty and endless attractions, it's easy to see why folks love spending their weekends exploring this amazing part of our country!